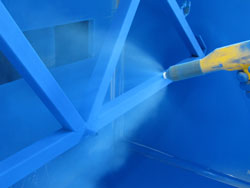 We provide a full finishing service.
This will include:
Grit Blasting
Shop Priming
Blast and Prime
Protective Paint Under Coatings
Top Coat Finished Paint systems
Galvanising
Powder Coating
Fire Protection Coatings
Polishing
CSM Steel Pty Ltd provides a range of services from a single Coat Paint System through to a four Coat Paint System. Our experienced technicians specialise in inorganic Zincs and water based as well as solvent based paints.

Grit Blasting
Abrasive blasting is the operation of forcibly propelling a stream of abrasive material against a surface under high pressure to smooth a rough surface, roughen a smooth surface, shape a surface, or remove surface contaminants. Surface preparation is integral to achieving a quality long lasting paint treatment.

Shop Priming
Suitable for interior or built in items where minimal corrosion protection is required.

Blast and Prime
Suitable for interior or built in items where moderate corrosion protection is required.

Protective Paint under coatings
Suitable for exterior or built in items where comprehensive corrosion protection is required.
For maximum corrosion protection with paint under coatings, CSM recommends Inorganic Zinc Silicate Primers.
Inorganic zinc silicates are coatings comprising metallic zinc held in a glassy silicate matrix. The zinc metal provides galvanic corrosion protection to the mild steel substrate, whilst the porosity of the coating provides voids that contribute to ongoing protection to the mild steel.

Top Coat Finished Paint systems
A finished paint system with no further treatment or coating required. Consideration should be given to transporting, handling and installation

Galvanising
Suitable for exterior or built in items where comprehensive corrosion protection is required.
Hot dip galvanising (HDG) is the total immersion of steel into a bath of molten zinc resulting in a durable, abrasion resistant coating of metallic zinc and zinc-iron alloy layers bonded metallurgically to the steel base and completely covering the work piece. This provides a unique combination of properties and advantages.
It forms a coating of corrosion-resistant zinc which prevents corrosive substances from reaching the more delicate part of the metal
The zinc serves as a sacrificial anode so that even if the coating is scratched, the exposed steel will still be protected by the remaining zinc.
HDG is a protective coating and as such imperfections allowed in the Australian Standard will not form the basis for rejection based on surface finish or colour.
HDG as per the Austral


Powder Coating
Suitable for: Fence panels and post, furniture, metal art signage and more.
Powder coating is a type of coating that is applied as a free-flowing, dry powder. The main difference between a conventional liquid paint and a powder coating is that the powder coating does not require a solvent to keep the binder and filler parts in a liquid suspension form.
The powder coating process uses a solvent free dry mix of plastic resins, pigments and fillers that melt and fuse together when heated. The solid particles of coating are electrostatically charged in a spray gun and carried by low velocity air to the surface of the piece to be coated. The electrostatic charge holds the powder particles in place while the part is cured in an oven. The heat of the oven causes a chemical reaction to occur and the powder to cure, creating a highly durable finish.
Fire Protection Coatings
CSM Steel Pty Ltd can supply an intumescent paint that will provide up to 2 hours fire protection rating and prolong the structural integrity of steel when faced with a fire. Water and solvent based intumescent coatings are available to meet your specific fire protection rating needs.
For more information,
contact us
or fill in our online enquiry form.